Colston's Primary School (now Cotham Gardens Primary School) was established in 1947 on the site of houses that had been used by Colston's Girls' School during the Second World War. After the war, the local authority wanted to create new state run schools across the city as part of the rebirth of Bristol that also saw new housing, roads and new international relations like the twinning with Bordeaux and Hannover.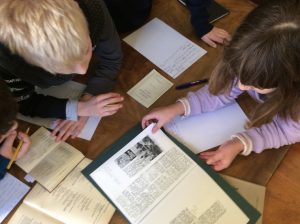 In 2017, with funding from Historic England's Heritage Schools programme Local Learning  helped the school to collect memories of the school and the local area.
Colston's Primary School Heritage
Click the thumbnails below to view some of the outputs from the Heritage Schools project including the song lyrics about how the local area has changed, created by Year 5
Second Plaque for Edward Colston's Statue
Building on the school's decision to change their name, Local Learning involved Year 6 in the discussion around concepts to be conveyed on a new plaque for Edward Colston's statue. Students interviewed a selection of visitors who have an informed and vested interest in shaping the information to appear on the statue, helping them to gain a variety of perspectives surrounding Colston's status in Bristol – and to recognise that there is another story – that this man was a high official in the Royal African Company and played an active role in the enslavement of African people.
The thumbnails below provide links to some of the materials created as a result of this project including the Heritage Statement created for the plaque proposal that describes the process with the school and a map depicting the places in Bristol named after people who had business interests in the Trans-Atlantic trafficking of enslaved Africans.