The Tewkesbury High Street Heritage Action Zone (HSHAZ), a partnership between Tewkesbury Borough Council and Historic England, is working to protect and enhance the town's history and heritage through a programme of grants for commercial properties, improvements to the public spaces and a range of cultural events focusing on the architecture of the town's buildings and the skills used to create these and maintain them today.
You can find out more about the Tewkesbury HSHAZ at www.tewkesbury.gov.uk/hshaz.

Local Learning and artist, Harriet Hand have been working with children from Tewkesbury C of E Primary School exploring their local heritage with members of the community to uncover and share what we have learned about the past.
Come along to Watson Hall on May 20th and 21st for a weekend of free activities to:
Try your hand at a traditional building skill
Contribute your own memories and memorabilia about Tewkesbury's past to the Know Your Place West historic mapping website and enhance everybody's understanding of the area and its heritage
Enjoy artwork conveying stories shared by local residents with a connection to Healing's Mill, telling tales of early starts and long shifts, flour sacks for wartime clothing, carnival lorries and abandoned barges
Participate in the free Building Stories High Street Heritage Trail and collect your own bespoke set of Top Trumps style cards focussing on the architecture and heritage of some of Tewkesbury's most historic buildings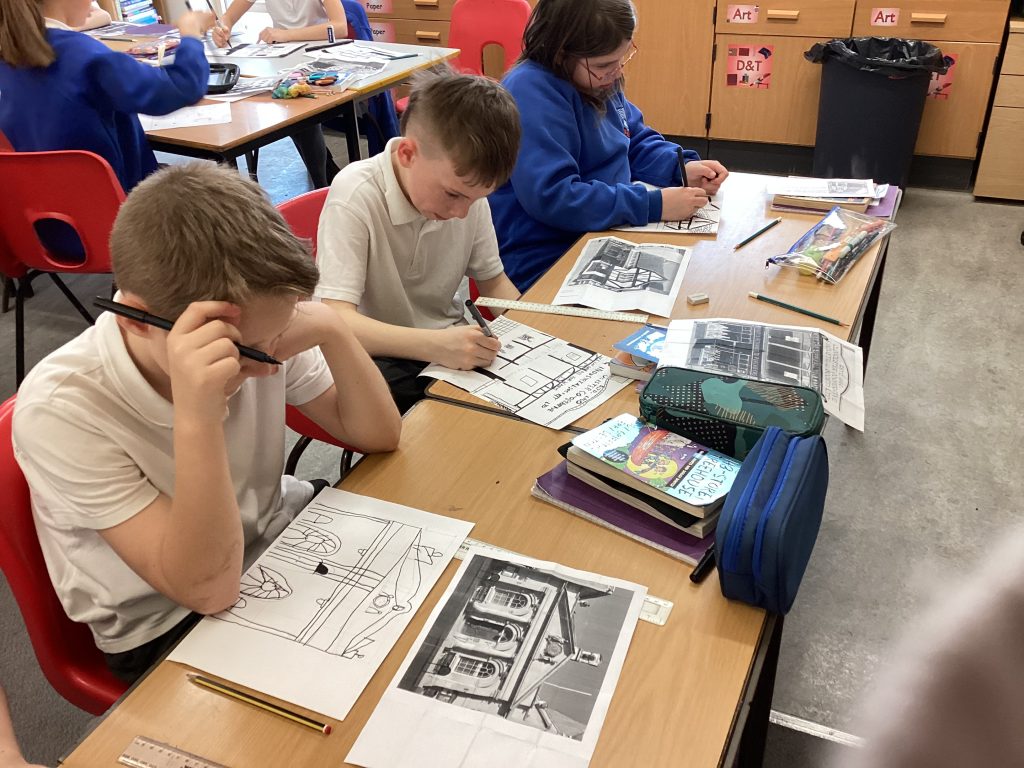 The Building Stories cards are freely available for visitors to collect from the corresponding shops and businesses on Tewkesbury's main streets. Cards for any buildings that are not accessible on the weekend of the heritage trail will be available at alternative venues.
A map indicating the full list of building locations will be available from Watson Hall, Tewkesbury Information Centre and Tewkesbury Library together with instructions on how to play once you have collected your free set of Building Stories high street heritage cards.
Have a go at creating your own Top Trumps style Building Stories cards using the pdf template available when you click the image below.
---
Guided by local historian, John Dixon (Tewkesbury Historical Society) 3rd year History students from The University of the West of England, Alexis Evans and Jack Troup have carried out extensive research to inform the Building Stories cards.
Alongside the school-based activities we ran a Saturday drop in workshop with the aim of sharing an understanding of traditional building skills with our youngest citizens. Visitors on the 11th March collectively produced a woodcarving based on the lintel over the door of one of the Tudor buildings that will be used on display at the exhibition at Weston Hall on 20th and 21st May.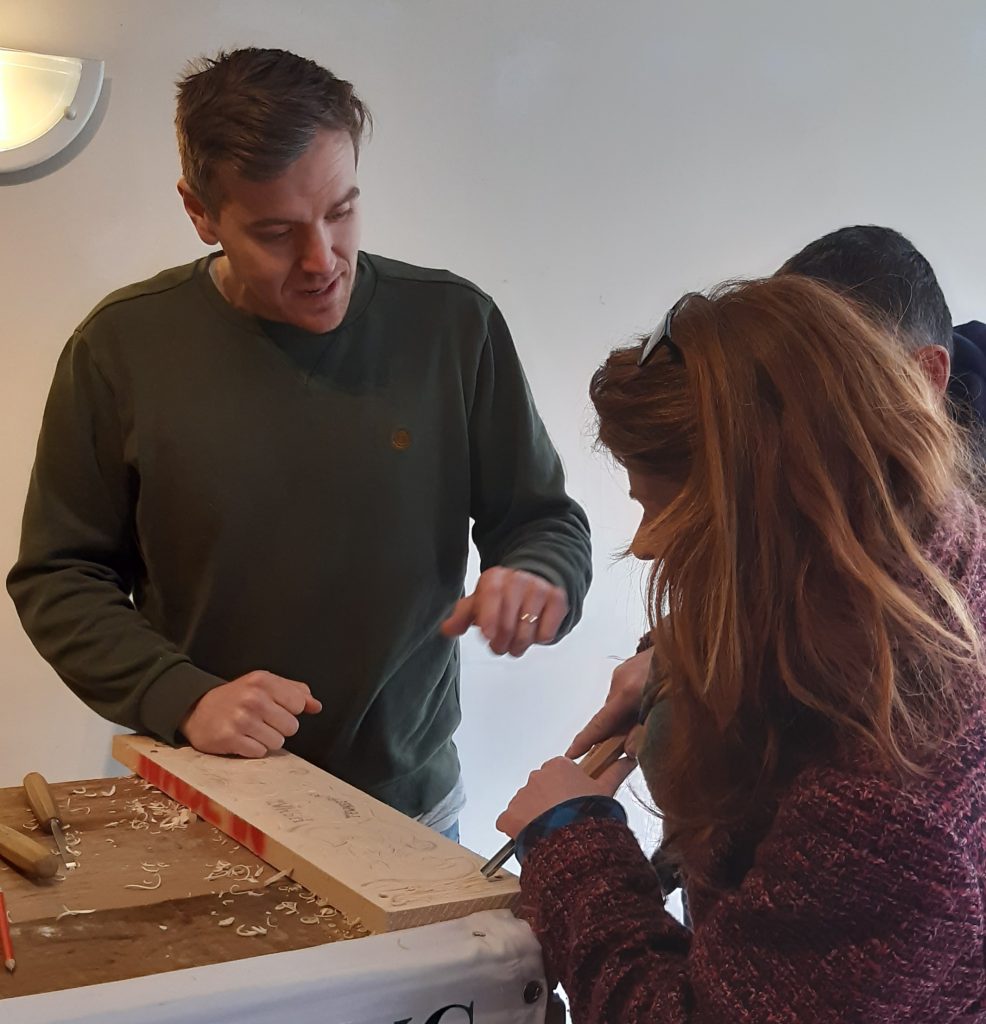 Thanks to generous and kind support from the staff at Tewkesbury Library and Tewkesbury Lab who donated their time and materials to provide us with our own bespoke laser-cut stencils for Healing's Mill.
The children created their own flour sacks featuring a central illustration of the building and architectural details that they had recorded during a local walk.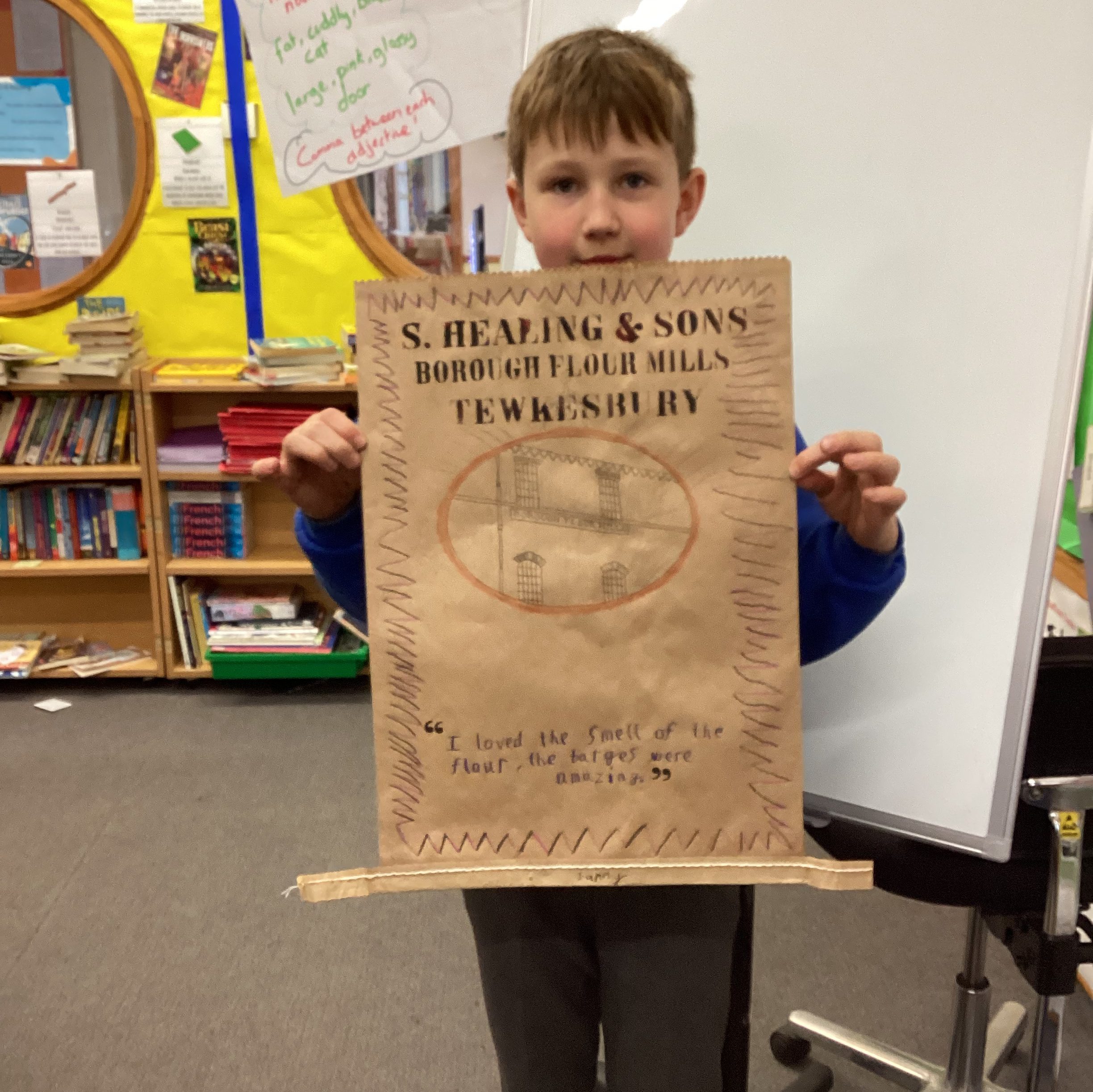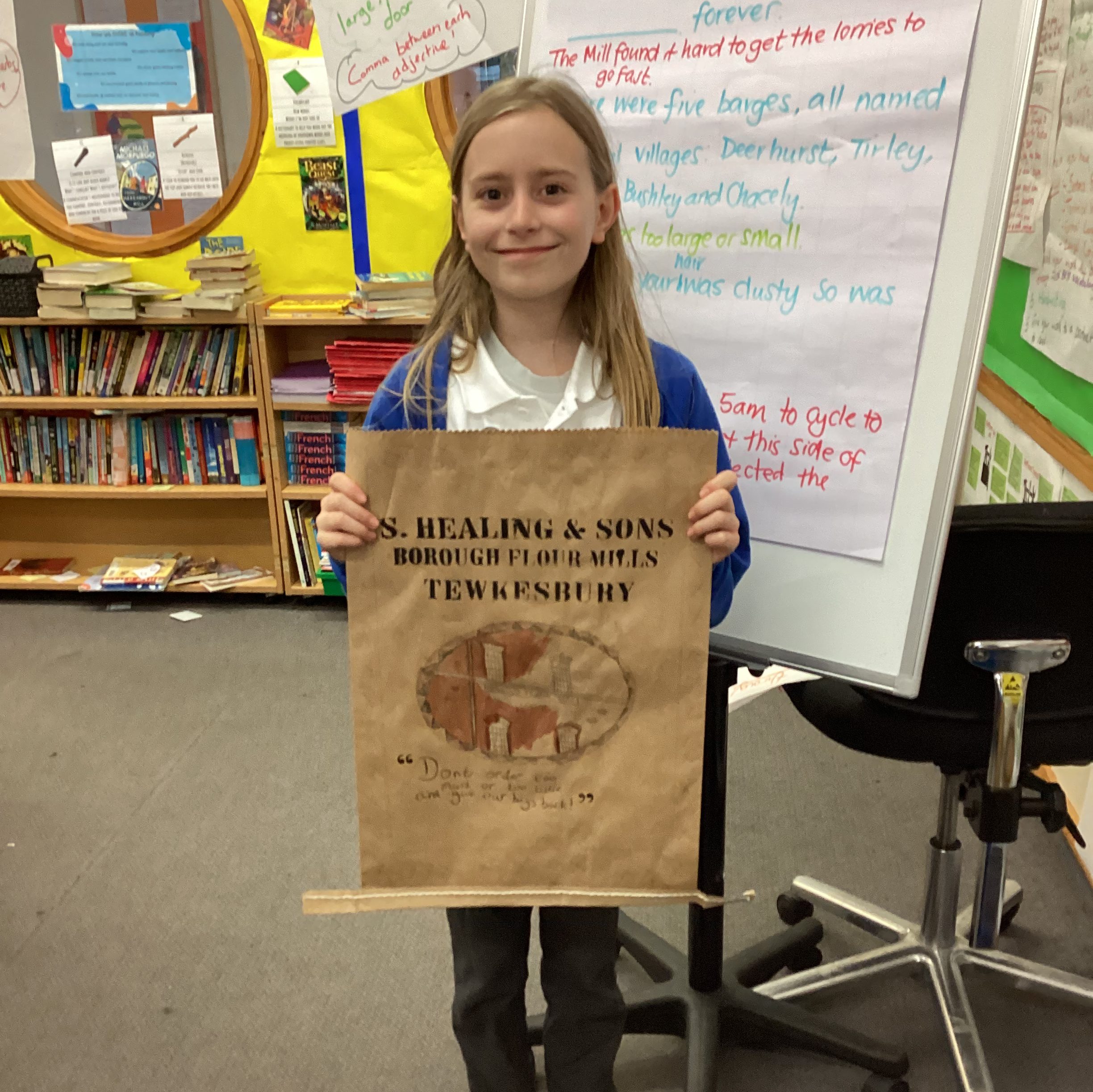 To complete the designs, children selected extracts from the stories shared by local residents with a connection to the mill, telling tales of early starts and long shifts, flour sacks for wartime clothing, carnival lorries and abandoned barges.
We would like to thank the following for sharing their memories and memorabilia about Healing's Mill: Eve Buchanan, Jean Mansfield, Clare Mills, Geoff Sallis and Joanne Raywood.
This project would not have been possible without the fantastic support of the Tewkesbury C of E Primary School, in particular: Helen Brown, Eve Buchanan, Julie Kucharski, Emma Yeomans and their Year 5 students.
Myers-Insole Local Learning would also like to thank the following people and organisations who have supported this project: John Dixon, Alexis Evans, Joel Hawkins, Rachel McGarvey, Oliver Moss, Joanne Raywood, Dave Symmonds, Tewkesbury Heritage and Information Centre, Tewkesbury Lab, Tewkesbury Library, Tewkesbury Museum, Rachel Thatcher, Amanda Thomas, Jack Troup and UWE History.
A special thank you to Georgia Smith, Programme Manager for the Tewkesbury High Street Heritage Action Zone initiative for all of her assistance and ensuring the smooth running of the project.