Myers-Insole Local Learning Community Interest Company
Exploring our local heritage with all members of the community, to uncover and share what we learn about our past.
Have a look at our PROJECTS page to learn more about what we are doing in collaboration with communities across Bristol and beyond.
Some of our projects have produced free LEARNING RESOUCES aimed at all key stages as well as life long learners.
News
Meadows to Meaders 4: Southmead Cares was broadcast during the Platinum Jubilee weekend on BBC Radio Bristol. You can hear all four episodes on the BBC Radio Bristol webpages.
Each 30 minute episode has been written and performed by the community and features cast members talking about their experiences.
Episode 1 is set during the Second World War and features Southmead at a time before the NHS when getting medical help would hit the family budget.
Episode 2 covers the cold winter of 1947 when Southmeaders opened their doors to take in children from war torn Germany.
You can read more about this story on the In Someone Else's Shoes pages.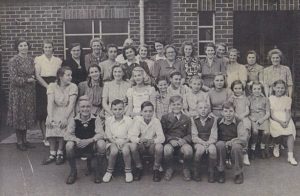 Episode 3, takes place in 1952 when Port Elizabeth House (Bristol's first council built home for elderly people) in Southmead saw its first residents.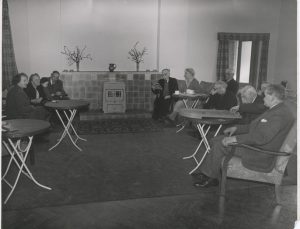 Episode 4, is set in the 1960s and a time when a house fire in the neighbourhood threatened one family Christmas, but brought the community together.
You can hear this original story and others that have contributed to the Meadows to Meaders scripts on the project memories page.
'Meadows to Meaders: The Radio Play' was recorded and edited by BBC Radio Bristol.
Previous news items
Meadows to Meaders is now returning for 2022.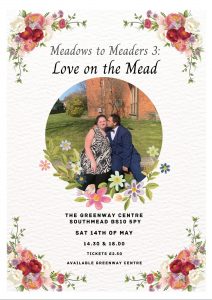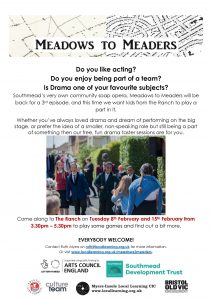 JUNE
MAY
A Fine Balance, our exhibition celebrating the life of Carlos Trower, who escaped slavery to become one of the world's greatest tightrope walkers will be launched at Bristol Beacon and Christmas Steps on Wednesday 26th May.
Free booking for the exhibition and further information now available from Bristol Beacon.
Hillfields Homes for Heroes, our interactive heritage trail celebrating the 101st birthday of Bristol's first council estate will be held on Saturday 26th June.
Meadows to Meaders, Southmead Cares, the 4th episode of our Southmead community soap opera will be aired on BBC Radio Bristol later this year.
Special thanks to St Monica Trust Winter Support Fund for helping the cast stay connected as we moved to a virtual platform so that all participants could continue to contribute and play an equal role in shaping how we share our stories.
We are hoping to perform the 3rd episode, Meadows to Meaders, Love on the Mead live at the Greenway in the autumn.
In the meantime, please feel free to explore our free learning resources on our projects page.
We are still collecting stories from people in Hillfields and Southmead and will be sharing these with you on these pages.
Thanks to funding from Arts Council England and Bristol City Council we are delighted to be working again with partners, Southmead Development Trust and Bristol Old Vic Theatre Company on a third episode of Southmead's own community soap opera, Meadows to Meaders that tells the true stories of those who have lived, worked and grown up here.
Two upcoming events in Southmead in the build up to the performance on 28th March.
Sharing stories at the Greenway on 3rd March…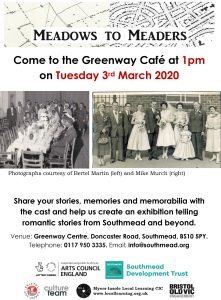 …and at Southmead Library on 10th March

ILLUMINATING FILWOOD
We have been working with Year 3 from Christ the King Primary School collecting memories from people who have grown up in Filwood and Knowle West.
Drawing from these stories, the children will be working with Alan May to create lanterns for a parade on Filwood Broadway on February 13th.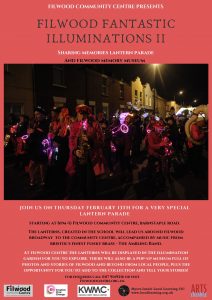 We are delighted to announce that with huge thanks to Arts Council England and Bristol City Council Arts and Originators funding there will be a third episode of our Southmead community soap opera, written and performed by local people. This will continue the successful collaboration  with Southmead Development Trust, Bristol Old Vic and Local Learning.
This time there will be a wedding on the estate and everyone is invited to attend the Greenway Centre on Saturday 28th March 2020.
We will also have an accompanying exhibition celebrating weddings and romances from different cultures and would love you to share your memories and memorabilia from Southmead and beyond with our curator, Bertel Martin.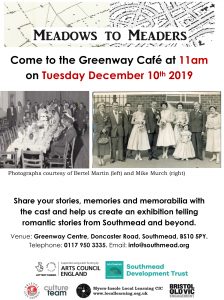 The people best placed to tell the stories of Hillfields are those that have lived and worked there.
In celebration of Hillfields' 100th birthday, we have created an exhibition containing personal insights from people who have grown up on the estate.
Together with local residents, we will be in conversation with Madge Dresser at the Festival of the Future City at the Watershed on Wednesday 16th October at 8pm. This is a free event, but booking is essential.
We will be discussing:
The re-enactment of the 1919 architectural competition as an outdoor community performance in June 2020
Set designs by UWE Masters Architecture students
Watercolours produced at the Bristol Ageing Better art workshops at Hillfields Community Hub
Local Learning has been working with Bristol Books CIC and Year 10 Fairfield students in preparation for this special Regional History seminar at M Shed on Wednesday October 9th.
Regional History Centre/ Bristol M Shed
Wednesday 9th October 2019 
The Studio, M Shed, Princes Wharf, Wapping Rd, Bristol BS1 4RN 
6.00pm
A Black History Month Presentation
Ancestral Roots and Football Boots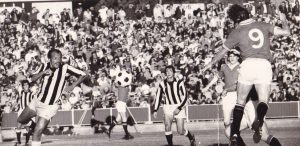 Stephen Darrow Stacey
Steve Stacey rose from kicking a ball in the gas-lit streets of post-war Bristol to running out in the top flight of league football. Often the only black face in the team, he was the first African-American to grace the professional English game.
Steve attended Fairfield Grammar School and although his first love was Bristol Rovers, it was Bristol City scouts who spotted him playing for the likes of Highridge United and Sneyd Park.
After a career in the English and Australian leagues, Steve set about searching for his roots. The journey took him to Kemper County (Mississippi) and to the discovery that his descendants came from the Balanta and Fula peoples of Guinea-Bissau in West Africa.
In this special Regional History Centre event, Steve will answer questions put to him by current students from his old school. It's going to be a great evening – we hope you can join us!
Steve Stacey's autobiography 'The Colour of Football', published by Bristol Books, will be available at his talk (£12 per copy, cash only).
All Welcome! 
Following a successful launch event at Hillfields Library on Saturday 6th April, Local Learning have programmed a series of events and activities up to September.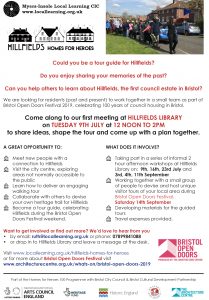 If you have any personal memories of Hillfields that you'd like to share with the project please post them in our replica George V pillar box in Hillfields Library.
See the Hillfields events page for further details.
In March, the In Someone Else's Shoes exhibition and shoes decorated by students from Fairfield, Bristol and IGS Kronsberg, Hannover began their journey across to Germany where they will tour Hannover during 2019.
Written by the people of Southmead and directed by Craig Edwards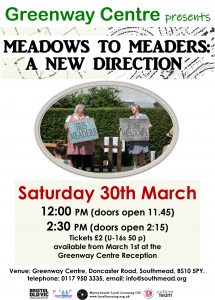 This coming Thursday come to the Hillfields Community Hub for a free Pinhole Camera workshop, see below.
Visit the Hillfields events page for a calendar of activities.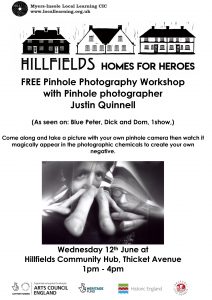 Houses and gardens created by Year 1 pupils at Minerva Primary Academy are on display at Hillfields Library along with postcards of architectural plans for the original 1920s council houses.
Saturday 6th April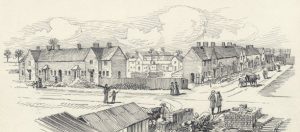 All members of the community are warmly invited to our Sharing Memories event to help us learn more about the fascinating history of Hillfields.
This is a free event providing an opportunity for people to learn more about the project and how to get involved.
Bring your memories and memorabilia of growing up in Hillfields.
See the exhibition created by Minerva Primary School pupils
Come on a guided walking tour of 1920s Hillfields and meet some of the original tenants
Try your hand at monoprinting with project artist, Carmen Garaghon
Have a go at designing your own council house
Free refreshments will be available.
This is a drop in event, no need to book, but for more information contact Ruth@locallearning.org.uk
Saturday 29th September – As part of Bristol's Docks Heritage Weekend, Bristol Ferries will be playing the fascinating stories collected throughout the Heritage Lottery and Quartet funded Washing in the Well project.
On Ferryboat Brigantia, throughout the weekend, you will be able to listen to recordings from Washing in the Well, exploring the fascinating history of Jacob's Wells Baths, intimately connected with the docks as many people swam in them!
The Victorian baths were built at a time when very few people were fortunate enough to have running water in their households, a time when locals didn't appreciate the risks they were taking swimming in the dirty docks, a time when the whole family would have to take turns washing in a tin bath, in ever murkier water. Some of these experiences continued into the 20th century within living memory.
Audio recordings can be heard through a set of headphones on the boat, and accompanied by a booklet about the project.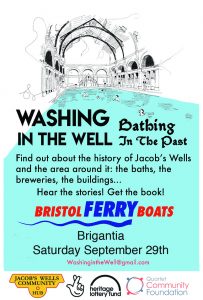 The stories collected throughout the Heritage Lottery and Quartet funded Washing in the Well community activities have now been added to our project page and the accompanying booklets will be available for free at the Harbour Festival event at the Baths, Saturday 21st July, 12-3pm.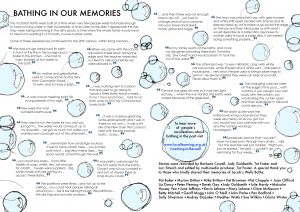 Local Learning are delighted to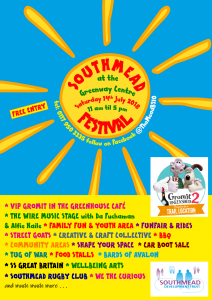 announce Bristol City Council funding for the next episode of our community soap opera, Meadows to Meaders.
Visit our stall at Southmead Festival to find out how you can become involved in MEADOWS TO MEADERS: A NEW DIRECTION – a Local Learning, Bristol Old Vic, Southmead Development Trust collaboration.
Local Learning has been working with Rowan Associates to co-deliver a community project, exploring the history of Jacobs' Wells Baths and surrounding area.
The community legacy booklet and oral histories will be launched at the Harbour Festival, 2018.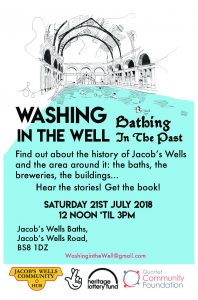 Find out what audience members and participants thought about the In Someone Else's Shoes performance and exhibition in our project report here.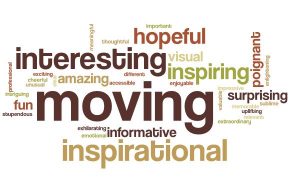 The exhibition moves in May from Ashton Gatehouse to the UWE Business School at the Frenchay Campus before going to Stoke Lodge Adult Learning Centre in June.
On Friday 4th May, 14 students from Fairfield School will fly out to Hannover for the return exchange trip.