Celebrating 650 years with communities across the city
"Bristol 650 is a year-long celebration of all things Bristol: who we are, where we are from, what we've done – and where we're going. It's a chance to tell untold histories, mark city anniversaries and welcome new arrivals." www.visitbristol.co.uk
As part of a National Lottery Heritage Funded project coordinated by Bristol Ideas celebrating the 650th anniversary of Bristol as an independent county, Local Learning have been commissioned to work with communities across the city exploring our local heritage to create a community atlas showing how Bristol has grown.
Together we will be telling the story of how a union of unique neighbourhoods has created an overarching city identity today. Through shared activities and conversations, we will explore how the heritage of these places can inform the city's future and who we are and who we want to be.
Bristol's boundary has seen six main changes since its original definition in 1373. Each change expanded the city bringing existing communities into Bristol and enabling new neighbourhoods to be created.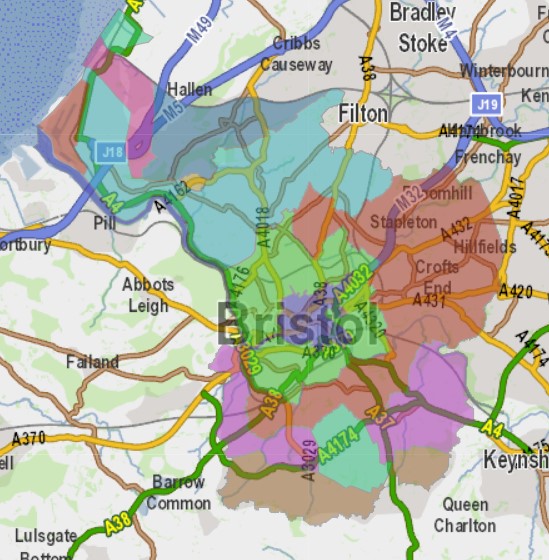 A visual timeline of these main boundary shifts; 1835, 1897, 1904, 1933, 1935 and 1951 (below) can be linked to each of the city's neighbourhoods, showing when each place joined the city.
Each outline of the county boundary below can be clicked for further exploration.
1373
(purple area in the centre of the map above)
1835
(light green area on the map)
1897
(red coloured areas on the map)
1904
(blue colour on the map)
1930-1933
(southern green and pink areas on the map)
1935
(darker blue area to the north of the city on the map)
1951
(brown areas on map)