A New Direction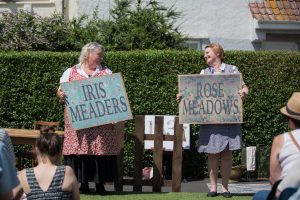 Will Rose Meadows have enough rations to make Edgar's favourite pie?
Will Norma Meader be able to get to the doctor's in her lunch break?
And why is Iris throwing her husband's trousers out of the window, before she's even ironed the other leg?
These questions were answered at the Greenway Centre on Saturday, March 30th, 2019  when the audience had a second opportunity to meet the Meadows and the Meaders; two fictional families who were in Southmead from the beginning.
Back by popular demand, and made possible by funding from Bristol City Council and Team Southmead, the many fascinating stories provided by you were woven by local residents into this second episode of the Meadows to Meaders Community Soap Opera directed by Craig Edwards.
People of Southmead performed real events from the 1930s to the 1960s, live at The Greenway at 12 noon and 2.30pm.
The Fowlers talk about their Meadows to Meaders experience after the performance of the second episode and what it means to be part of this Southmead community soap opera.
Read all about the second episode in this special edition of The Mead