Love on the Mead
1,2,3…1,2,3…Will Mark Meaders ever learn to waltz?
Where did Vera Meadows get that hat?
And why is Carol breaking and entering the Reception in her wedding finery?
Thanks to funding from Arts Council England and Bristol City Council we were delighted to work again with partners, Southmead Development Trust and Bristol Old Vic Theatre Company on a third episode of Southmead's own community soap opera, Meadows to Meaders that tells the true stories of those who have lived, worked and grown up here. We wrote the script together, building on the wonderful characters and script created originally by Bea Roberts.
The cast regularly came together and shared stories of their own or explore ones we have collected from local residents and as everyone is talking and laughing over old times, a narrative emerged and our script took shape.
These conversations during Lockdown resulted in two Story Maps that covered the cast's musical memories and library memories.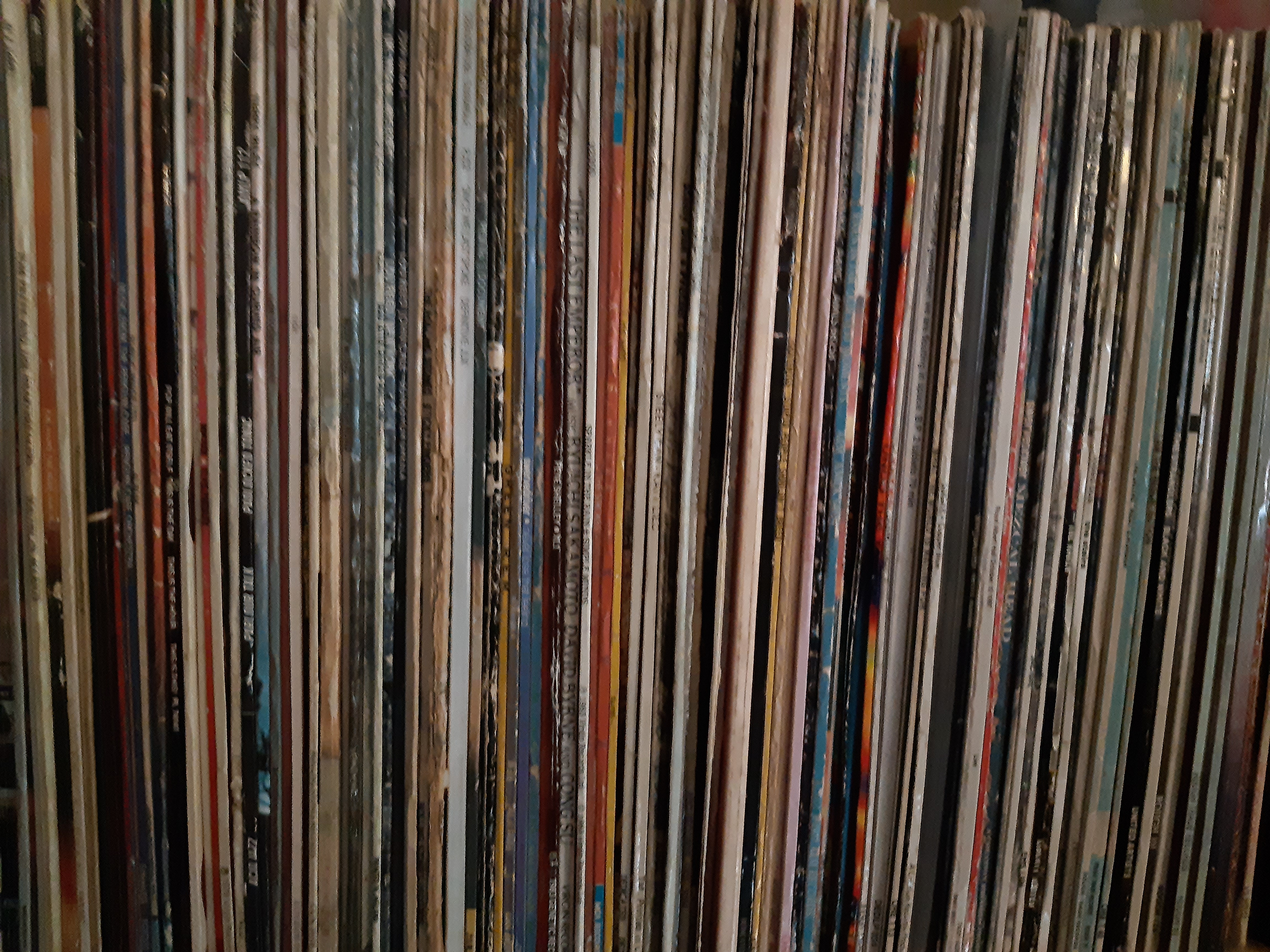 We are grateful to St Monica Trust Winter Support Fund for helping the cast stay connected as we moved to a virtual platform during the pandemic, so that all participants could continue to contribute and play an equal role in shaping how we share our stories.
Meadows to Meaders 3: Love on the Mead was set in the 1970s, but popped back to visit 1940s and 1950s Southmead to hang out with American GIs, practice our cha-cha-chas at Gloria's School of Dance and enjoy a bit of friendly football rivalry between Rovers and City.
Some of the storyline was inspired by the early life of Steve Stacey, born in Southmead and the first African American to play professional football in the UK.
Find out more about Steve on The Colour of Football pages.
This time around there was a wedding on the estate and Bertel Martin worked with the community to co-curate an accompanying exhibition celebrating weddings and romances from all the cultures that make Southmead what it is today.
Click image below to visit the exhibition web page.
Ticket prices for the performance included a slice of wedding cake courtesy of the fabulous Travelling Kitchen.
Performance photo gallery
We asked members of the audience and cast to give us three words that they associated with Meadows to Meaders 3: Love on the Mead. The word cloud below was created from these responses.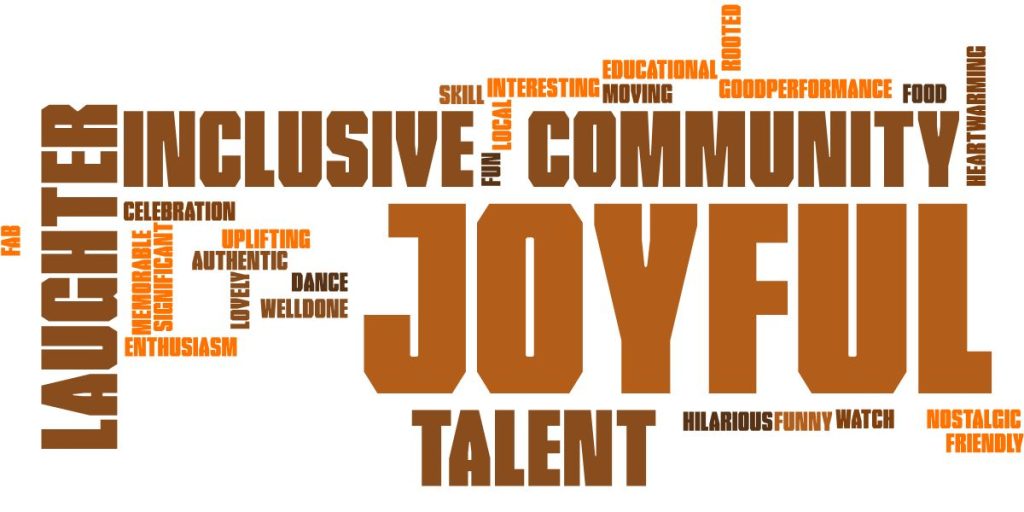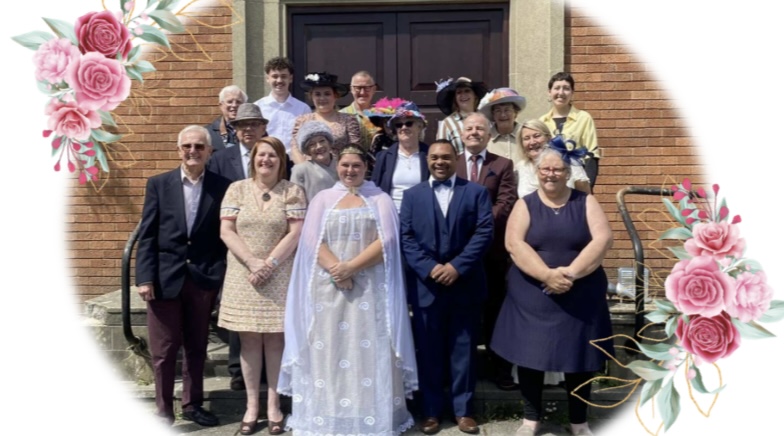 The cast of Meadows to Meaders 3 have been sharing their stories about 1970s Southmead,
This has been a collaboration between Bristol Old Vic Engagement, Myers-Insole Local Learning CIC and Southmead Development Trust.

A special thank you to:
St Stephen's Church for giving us a space to meet and rehearse.

Myers-Insole Local Learning would also like to thank:
Abdulkhaliq Ahmed, Lucy Austin, Annmarie Ayton, Natalie Bailey, Sacha Bigwood, Grace Boyd, Kayleigh Brady, Clive Burlton, Ash Burton, Bristol Old Vic Engagement, William Campbell, Pearl Conway, Suzanne Daggar, Chris Daniels & his Year 9 class, Hattie de Santis, Imogen Downes, Bekki Dyer, Pat Edmeade, Bob & Gabby Edwards, Tracy Edwards-Brown, Charlie Ferdinando, Fonthill Primary School, Marion Garland, Natalie Gibbs, Warren Giles, Cassidy Grant-Shearn, Miley Grant-Shearn, Greenway Centre, Lisa Gregan, Steve Haddow, Domenica Hall, Alison Harries, Helen Howard, Lucy Hunt, Michael Jenkins, Amy Kinnear, Anthea Mustard, Esther Myers-Insole, Orchard Secondary School, Gill O'Rourke, Sophie Pester, Ethan Prince, The Ranch, Bea Roberts, Jon Roberts, Ron Rogers, Andy Simpson, Lucille Smith, Max Smith,
Southmead Library, Dot & Steve Stacey, St Monica's Retirement Village, St Stephen's Church, Paul Walker, Dr. Rose Wallis, Debbie Warren, Laura Welti, Claire Wingate and Gemma Woolley.
You can listen to Meadows to Meaders 4: Southmead Cares originally aired on BBC Radio Bristol over the Queen's Platinum Jubilee bank holiday weekend on our web page HERE.
And if you would like to be involved in the next Meadows to Meaders then contact Ruth@locallearning.org.uk.

Thank you to Arts Council for England, Bristol City Council Arts and
Originators Fund, St Monica Trust Community Impact Winter Support Fund and Bristol Libraries Innovation Fund for their generous support and without whom this project could not have happened.