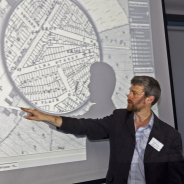 Pete is an historical and archaeological specialist with nearly 30 years' experience of working in the heritage sector in Bristol. He is currently Head of Urban Design and Principal Historic Environment Officer for Bristol City Council and maintains Bristol's Historic Environment Record.
Pete devised and manages the multi-award winning Know Your Place web mapping resource and now advises on its various developments within and beyond the city such as Know Your Place West of England, Bristol University's Know Your Bristol and the Worcester Life Stories project
For the last 12 years, Pete has been using Know Your Place to develop a story of place concept that provides a platform for multiple voices to collectively share and define Bristol's heritage through historic photos, oral histories, postcards and other formal and informal archives.
Publications include
Nourse, Insole and Warren, 'Having a lovely time: localized crowdsourcing to create a 1900s street view of Bristol from a digitized postcard collection'. Participatory Heritage,

,

 .
'Crowdsourcing the Story of Bristol', Urban Archaeology, Municipal Government and Local Planning, Baugher, S, Appler, D and Moss, W (eds), 2017.
Nourse and Insole, 'Shirehampton Remount Depot', Bristol and Avon Archaeological Society Journal, vol.26, 2014-15.
Piccini and Insole, 'Your Place or Mine? Crowdsourced Planning, Moving Image Archives and Community Archaeology'. Archäologische Informationen, 2013.
'Using the Historic Environment Record for Cross-curricular Local Learning' in Sites and Monuments Record to Historic Environment Record: Local Authority Case studies, English Heritage, 2010.