Thanks to funding from the Arts Council England, National Lottery Heritage Fund, Bristol City Council and Historic England's Heritage Schools programme, Local Learning worked in partnership to deliver a series of free activities and events to celebrate the centenary of Bristol first council estate.
Final celebration event, Saturday June 26th, 2021
Postponed for a year because of the pandemic, we were able to finally come together to safely celebrate Hillfields' 101st birthday.
The event featured an audio trail created by the community in partnership with Tot Foster of Wildman and Herring and theatre maker Jess Hoffmann.
As well as the audio trail, visitors on the day were told Hillfields stories by long time Hillfields resident, Ken Pearce.
There was also:
A treasure hunt created by project partner Malcolm Hamilton
Architectural craft workshops delivered by UWE Masters Architecture students
Cookery demonstrations by Travelling Kitchen who took the role of the Women's Advisory Committee.
December 18th 2020
Hillfields Winter Trail
Decorations inspired by local residents' stories created by children from Minerva Primary School will be on display across Hillfields from December 18th. These will include paper chains, lanterns, poems, house models and even their own post-WW2 rationed menus.
Further details here
The students have also created a selection of videos available to view here.
What have we been doing?
During 2020
Before the project programme had to be amended because of the Covid outbreak, Local Learning had been working with Hillfields residents at the Community Hub to shape the celebrations that were due to take place in the summer.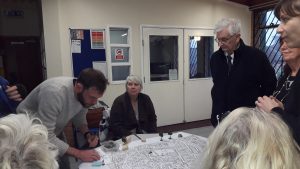 Writing workshops at Hillfields Library to create a legacy booklet conveying the stories of Hillfields took place during February along with workshops with Bristol artist, Carmen Garaghon to create a tapestry map of the neighbourhood.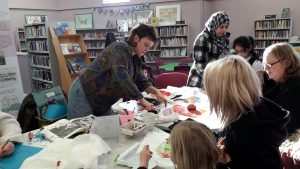 2019
Saturday 14th September, Open Doors sharing memories event, Hillfields Library
Community tour guides took visitors on a walk around some of the sights of the neighbourhood, recounting stories of the area.
In Hillfields Library, Travelling Kitchen were on hand to provide refreshments, while people shared memories and participated in workshops with project artist Carmen Garaghan.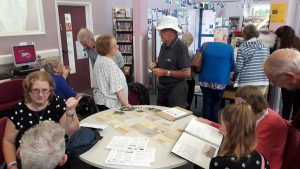 Wednesday 11th September, Bristol Museum Summer Walk: 100 Years of Council Housing
Pete Insole provided a guided tour of the neighbourhood and talk about the legacy of Addison's Act and its impact on the city as a whole.
Tuesday 9th July, first session to become a Hillfields Tour Guide for Bristol Open Doors Festival in September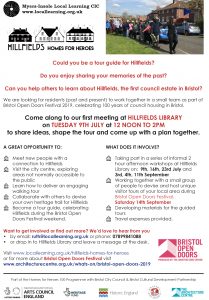 Wednesday 12th June, Pinhole camera workshop, Hillfields Community Hub
Participants at this activity will work with Justin Quinnell to create their own pinhole cameras to capture images of Hillfields for a photographic exhibition.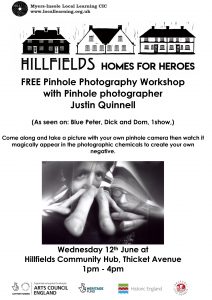 Tuesday 21st May, Community research
An inter-generational trip to Bristol Archives to undertake further research. Visitors to the archives will be able to view original house and estate plans and learn more about their own house histories.
A free mini bus has been provided for travel to and from the Archives, but booking for this event is essential.
Wednesday 15th May, Hillfields Library
Following on from the initial launch event, Local Learning will be at Hillfields Library in the afternoon of the 15th May to collect further Hillfields stories.
Saturday 6th April, 11am to 5pm,  Hillfields Library
Hillfields Library warmly welcomed over 200 people to the Hillfields Homes for Heroes launch event on the 6th April.
Visitors on the day were able to journey back to 1920 to view the Demonstation Area under construction, sample inter-war delicacies courtesy of Travelling Kitchen and learn more about Girl Guiding. People were also invited to participate in future activities over the next 18 months of the project.
Back to Hillfields Homes for Heroes