By David Hutton
Scouting started when Lord Baden Powell (BP) published a book called Scouting for Boys in 1907 and held a trial camp on Brownsea Island. Boys loved what they read and started to form themselves into Patrols to carry out the activities written about. BP soon realised that it was necessary to set up an organisation to regulate things and to bring in adult leaders and the rest is history. Girls also wanted to join and at a Boy Scout Rally at Crystal Palace in 1909 a group of girls asked to join and so BP asked his sister Agnes to form the Girl Guides in 1910.
The 139th Bristol Scout Group opened in 1927 and would have had a Wolf Cub Pack for boys aged 8 to 11 and a Boy Scout Troop for boys aged 11 to 18 years, but we are not sure where they met. By 1935 they were meeting in Charlton Road and by 1937/38 the HQ was in Woodland Way.
After the Second World War the Cubs and Scouts were meeting at Hillfields Park Junior School and by 1953 they had a Senior Scout section. This was to split up the large age difference in the Scout Troop, Scouts were now aged 11 to 15 and Senior Scouts were 15 to 18. At 18 boys moved on to Rover Scouts.
Following a lot of hard work by the Parent Committee, the new Headquarters was opened in 1953 located in Beechen Drive between numbers 71 and 73. The official opening was carried out by the County Commissioner. I joined the Hillfields Cubs around 1948/49 but didn't enjoy it and soon left. In 1952 I joined the 55th Bristol Scout Troop associated with St Mary's Church in Fishponds. This I loved and progressed through Scouts, Senior Scouts and then Rover Scouts. My first camp was near Frome and we had to let Skip have our ration book coupons so that he could buy our food for the week. In 1957 I attended the World Scout Jamboree held at Sutton Coldfield to celebrate 50 years of Scouting. In 1961, Chris Claridge became the Scout Leader at the 139th and he worked for Mardon Son & Hall, the printing arm of Imperial Tobacco as did my father, Frank Hutton. Chris was looking for an Assistant Senior Scout Leader to look after the older boys and so I joined the team in December 1961.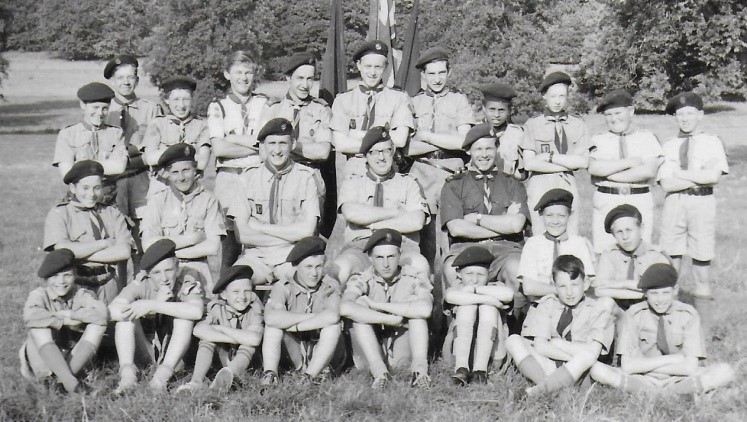 There were only six or eight boys of Senior Scout age so it was not always easy to organise programmes, particularly if some boys were away. Rod Parfitt, a friend of mine from the 55th was doing a similar job with Senior Scouts at a Troop in Staple Hill and had the same problem. To overcome this we organised joint activities, some quite adventurous. On one occasion we organised a night hike starting in the Cheddar area that ended up with us all sleeping on the top of Crook Peak near Loxton in January, Brrr!
At the same time, Pat Thomas, my wife to be, was a Brownie Leader at the Hillfields Park Brownie Pack who met at the Baptist Church. She had been a Ranger Guide with the 33rd Guides based at St Mary's Church in Fishponds. I retired from the Troop about 1965 because we were getting married and moving to Little Stoke. Pat continued as a Brownie Leader until our son was a year old in 1969 by which time it was difficult to travel over from Little Stoke and our daughter was on the way. When our children were old enough to join Cubs and Brownies we both got back into Scouting and Guiding in the Little Stoke local area and are still involved.
The 139th Group closed in 1993 and was taken over by the 66th Bristol based at St John's Church in Lodge Causeway. The HQ has been demolished and a pair of semi- detached houses has been built on the site.
Acknowledgement – Richard Ivens, Scout County Archivist for historical data.