Victorian resources (these were created for St Michael-on-the-Mount Primary School, but contain generic content that can be applied elsewhere).
Bedminster is likely to have Saxon origins that pre-date that of Bristol. The Bedminster we see today was shaped by Victorian industries like coal mining, tanning and tobacco and the associated streets of shops and terraced housing.
As part of the Ashton Gatehouse project we worked with Ashton Gate Primary School to explore the history of the 1914 International Exhibition (known as the White City) that was located on Ashton Fields to the west of Bedminster. With the outbreak of war the 'temporary' buildings of timber and plaster were used to house and train new recruits for the Gloucestershire Regiment. With assistance from local historian and author of Bristol's Lost City, Clive Burlton, Year 5 pupils from Ashton Gate Primary School visited the Bristol Record Office to research the White City. Working with UWE film undergraduates and digital media expert, Dan Tagg they recreated the 1914 exhibition in Minecraft.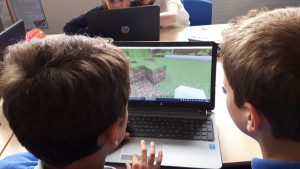 Ashton Vale Primary School were also involved in the Ashton Gatehouse learning activities, exploring their local industrial heritage with their parents and grandparents. Year 6 used the Our Place approach to assess the route from Ashton Vale to Ashton Gatehouse, addressing issues around signage with architect, Richard Guise. Year 5 collected photographs, letters, artefacts and memories associated with the area from local residents that have helped to enhance the Know Your Place community layer for Ashton Vale.