Project menu (click the images below)
Film created by Tot Foster for the Ashton Gatehouse project
For more than five centuries Ashton Court and the Smyth family who lived there dominated the area of South Bristol. The industrial revolution brought new wealth to the Smyths. By the end of the 1700s, the coal mines on their lands across Bedminster provided a significant addition to the estate's income. John Hugh Smyth commissioned the famous landscape gardener, Humphry Repton, to redesign the grounds of Ashton Court.
John Hugh Smyth died in 1802 and the estate went to his nephew, Hugh Smyth who perhaps did not share the same vision as his uncle. As a result, Repton's ideas were only partially realised. Repton designed a route to enter the estate via a proposed gatehouse, taking carriages all around the estate, affording visitors tantalising glimpses of the mansion whilst impressing upon the visitors the sheer size of the estate.
Esme, the last of the Ashton Court Smyths died in 1946. Ashton Court Estate then became the property of Bristol City Council. Ashton Park School was founded on part of the estate in 1955 as one of the secondary modern alternatives to the grammar system.
In 2015 Local Learning were employed by the Bristol Building Preservation Trust to deliver an education activity plan as part of a Heritage Lottery funded project to restore the Ashton Gatehouse; the main entrance to the estate originally proposed by Repton. Local Learning have been working with Ashton Park Secondary School and its partner primary schools to explore the history of the gatehouse.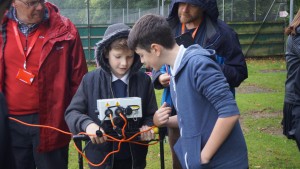 Year 8 students from Ashton Park and members of the public worked with Archeoscan geophys team to identify the extent to which the original driveway from the lodge to the mansion remains beneath the school's playing fields, Year 9 worked on reproducing a replica Red Book with beautiful detailed watercolour illustrations of Repton's proposals. Year 10 GCSE drama worked with theatre company, Show of Strength, who specialise in true local stories set in unusual places, to devise a play that delved into history to reveal some of the hidden stories of the area. The roaming drama took the audience from Ashton Gatehouse to Ashton Court in what early landscape gardeners might have referred to as 'peeps and bursts'.
Ashton Vale Primary School undertook an Our Place and local memories project to inform a wayfinding signs for the Gatehouse and populate the community layer on Know Your Place.
Ashton Gate Primary School explored the Bristol's International Exhibition of 1914 (locally known as the White City) at Bristol Record Office with local historian Clive Burlton and created their own White City using Minecraft.