Montpelier originated as a suburb of Bristol in the 18th century with detached villas set on the Ashley Down hillside overlooking the Cutlers Mill Brook. This setting was considered reminiscent of Montpellier in France.
As Bristol expanded in the Victorian period, this leafy suburb was infilled by the streets of terraced housing that we see today.
In 2016, Local Learning secured funding from Knightstone Housing Association to explore the history of this neighbourhood with the community.
Members of the community shared their memories of the area with media producer, Tot Foster providing insights into Albany Green, initial impressions of the area for people arriving here from Jamaica in the 1950s and 60s, the creation of one of Bristol's first mosques on Lower Cheltenham Place and how it will be missed when it eventually moves to Sevier Street.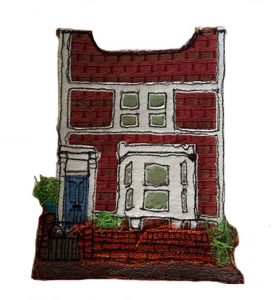 Using research from Bristol Record Office and people's memories of the area, local residents will create art work conveying the history of the houses near Rosa Parks Lane – of the buildings that still exist today and those that have disappeared a long time ago.
Using textiles, local artist, Carmen Garaghon will be running workshops at St Pauls Learning Centre to help people to produce images that show something about the history of both the inside and outside of their houses.
The final pieces have been photographed and printed on to anti graffiti material to go on permanent display on the fences running along the lane alongside similar works that will be produced by pupils from St Barnabas Primary School.